PrayerCenter Submit Request
Why Apologetics?
1 Peter 3:15 says, '"But sanctify the Lord God in your hearts: and be ready always to give an answer to every man that asketh you a reason of the hope that is in you with meekness and fear."


As Christians, we are to be ready to answer the tough questions about our faith in God and of the truth of Scripture. This is extremely important in a day when evolutionary and humanistic teaching is bombarding everyone and especially children through school, television, news, and many other sources.



Source: http://www.newyorkapologetics.com
Each Month a Topic is Presented For Discussion that May be used for Defense of the Faith or "Apologetics"
See Below for this Month's Article on Thermodynamics and Creation
The Second Law of Thermodynamics as Evidence for Creation
By Chris Reeves on December 9, 2017
Several years ago, during a church Sunday school class, a teacher asked his class what secular evidence could be used to support the case for Christ. One student proudly spoke up and stated that the 2nd law of thermodynamics was excellent scientific evidence for Christianity. The student went on to explain this law and the class all agreed that this was particularly excellent evidence. Shortly thereafter, during a discussion with an unbeliever, the same student brought up the 2nd law of thermodynamics as scientific evidence supporting Christianity once again. This time the response was a rebuttal full of facts that left the student wondering where he went wrong. That student, the author of this paper, has since discovered why this law is excellent for an apologetic discussion; however, one must also fully understand the arguments that may be made to refute it. The second law of thermodynamics, when properly understood with respect to a closed system, consistently applied and viewed along with other physical laws, can certainly be used as evidence to support a Christian worldview.
Understanding How the 2nd Law of Thermodynamics Works
Source: http://apologeticspress.org
The second law of thermodynamics states that a closed system tends toward increased disorder or "entropy." This essentially means that the amount of energy as well as order within a closed system is constantly decreasing. This thermodynamic principle is used to describe various processes such as the release of energy or heat from an object to its surrounding "system." This tendency for a system to become more disorganized and chaotic has been stated by some such as Dr. Henry Morris, from a Christian perspective, to follow the effects of Adam's curse as described in Scripture[1]. Morris and other prominent scholars, such as John Whitcomb and James Stambaugh, believe that the "decay" associated with the 2nd law seems to follow the consequences of sin as described in the Bible[2]. While this seems rather straightforward, one must be cautious not to assume that the introduction of the second law of thermodynamics began with Adam's sin. It is known that the breaking down of food within the digestive system, where food molecules are broken down to generate energy, is an example of the second law of thermodynamics[3]. There is nothing in Scripture to indicate that Adam digested food any differently in his time than people do today. Other examples such as that of friction, which would have been generated with each footstep Adam would have walked, as well as the loss of the sun's energy output as it provided heat to the earth certainly would not seem to have suddenly originated with Adam's sin. These examples indicate that there must have been energy transfer and an associating decay of total energy, or at least a decrease in the order of energy from a higher, more organized, form to a lower, less organized, form from the very beginning of creation.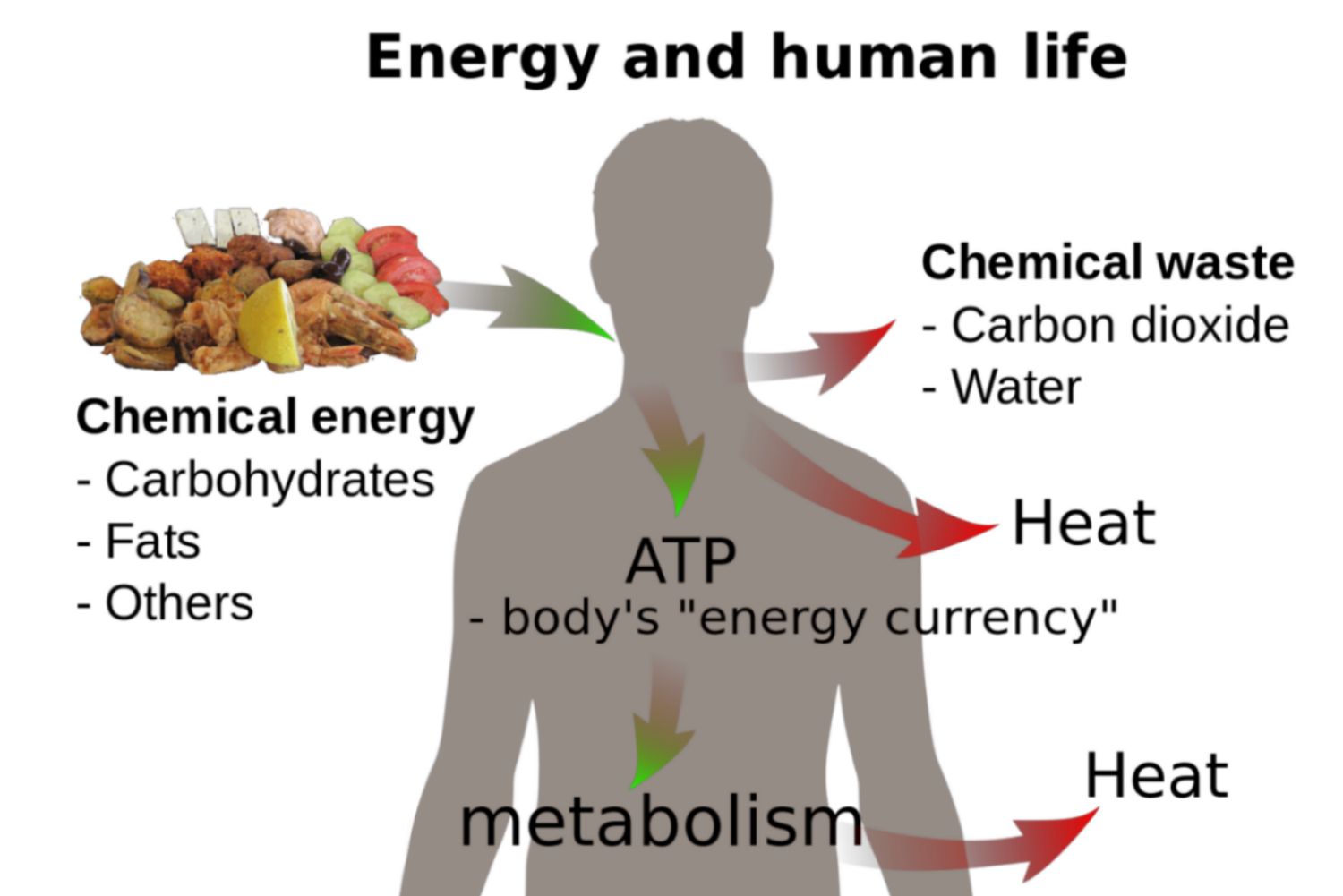 Source: https://fthmb.tqn.com
So, if decay and/or disorder existed prior to Adam's sin, what then would have prevented Adam from eventually succumbing to the effects of decay himself, with eventual death to follow? James Stambaugh states that "the second law was clearly functioning before the Fall", but then goes on to state that "this does not mean there was death and physical death among the living creatures before the Fall."[4] If the second law did not lead to death prior to the Fall, then there must have been something invoked by God to effectively suspend the results of decay on living organisms. This would certainly not be beyond the capability of the ultimate Creator of the universe. Kurt Wise, in his book Faith Form and Time: What the Bible Teaches and Science Confirms about Creation and the Age of the Universe, presents the possibility that God may have had another law, unknown to the world today, that was taken away at the time of the Fall. Wise states that "it is interesting that something designed for good (the Second Law) in the original creation could—with as 'small' a change as the suspension of another law—cause what is generally perceived as huge negative effects."[5] As such, it is important that when understanding the origin of the second law, that it not be associated with the fall of Adam, but must have been introduced at the creation of the earth along with all other associated physical laws.
So the question comes, if the 2nd law cannot be tied to the curse of sin, can it be used in other ways to support a Christian worldview? Alex McFarland states in his book The God you Thought You Knew that there exists a common myth within today's culture that Christianity has been disproven by modern science. McFarland goes on to state that "while skeptical scientists still refuse to claim God is behind creation, a fresh movement has arisen that scientifically supports the Christian Worldview of the universe's origin."[6] Mr. McFarland also states that "scientific evidence for the beginning of the universe includes the expanding universe and the second law of thermodynamics."[7] It seems very important then to fully understand such scientific evidence so that it can be discussed factually with skeptics.
Understanding How Other Physical Laws Relate
The second law of thermodynamics is often used in apologetic discussions and debates[8]; however it is important to understand that there are other physical laws that also point to a Creator, and indeed no individual physical law, when understood within the context of all other interrelated laws, can be found to contradict the assertion of intelligent design[9]. The first law of thermodynamics, for example, states that for given amount of energy in a closed system, that energy will remain constant even though it may change form[10]. In other words, energy can neither be created nor destroyed, but can only be converted from one form to another. So, it is reasonable that there must have been a starting point at which energy, in some form, had to be injected into the universe. The most logical explanation for this creation of energy, if one is fully open to possible all hypothesis, as science itself dictates, is that there must have been a Creator.
The origins of physics began with men who were not only open to the possibility of a Creator, but who were devout in their belief that Scripture was truth. Isaac Newton, for example, was known as one of the greatest scientists of all time and the "father of physics."[11] His contributions to science included the laws of motion and an understanding of the interactions caused by gravity. Michael Faraday produced the first electric generator in 1831 and his work in understanding electrical force and magnetic fields makes it possible for people today to live with the benefits of electrical devices such as computers[12]. Lord William Kelvin developed the first law of thermodynamics in 1848. Each of these men, who believed in the Genesis account of creation[13], are esteemed by scientists today; who interestingly enough, refute the possibility of a Creator.
Understanding How Application of Thermodynamics is to be Consistently Applied
The thermodynamic principle of "entropy" shows that the universe, if considered a closed system, is always moving from more to less order. The fact that the universe is less ordered than in the past points to the position that there must have been a beginning point of maximum order, after which disorder began. If the age of the universe was infinite, then it stands to reason that it would have already reached a point of maximum disorder. This is similar to the argument associated with the expanding universe, which indicates there must have been a starting point for the universe, and the fact that there was a point of maximum order associated with the start of the universe certainly seems to indicate a purpose and that it was intelligently designed.
One argument that skeptics have raised with respect to the second law as support for the Genesis account of creation has to do with the description recorded by God of it being "very good." Some would argue that Genesis indicates that the created universe was made perfect but that this would contradict the principle of entropy associated with the second law of thermodynamics. Skeptics such as Richard Dawkins and Michael Shermer, for example, argue that since entropy is inherently associated with decay and disorder, the world could not have been created by an intelligent designer[14]. It is important to recognize that the presence of the second law of thermodynamics, which was apparently utilized to define the physical world and while leading to an energy dissipation, was obviously at least suspended in some fashion so as not to decay living organisms. As such, prior to the entrance of sin, the created world could have been characterized as "perfect" since the second law of thermodynamics was controlled such that there were no negative effects. Hypothetical assertions regarding the physical laws in place at the origin of the universe typically assume a steady state. That is, that the laws we currently know and understand are the same today as from the beginning. If one believes that an intelligent designer was powerful enough to create the universe, it is also reasonable that the laws could have been altered at the beginning by that designer in some way unknown to present understanding.
Some have used the second law of thermodynamics as support for opposition to the theory of evolution[15]. The increase in disorder associated with the second law certainly does not seem consistent with the theory of evolution that claims humans are growing in complexity. Skeptics would argue that the second law only applies to a closed system, and a living organism, constantly interdependent on its environment, can hardly be considered a closed system[16]. Indeed, there are examples for growing organisms that, at least for a period of time, are increasing in complexity with multiplying cellular development[17]. As such, while the second law of thermodynamics in a general sense can be used to show the natural tendency toward disorder, it would be impossible to quantify such disorder common to a living organism exposed to a constantly changing environment and thus is likely not the best example to use when refuting Evolution.
Conclusion
The second law of thermodynamics can certainly be used to stir conversation toward a belief in a Christian worldview. This being said, it is important that it be fully understood before using as evidential support for the universe having a starting point, reflective of an intelligent Creator. One must understand how this law is applied with respect to a closed system, and how it is understood together with other physical laws. To expand its use beyond this as evidence refuting evolution or association with the fall of Adam, could likely lead to additional skepticism on the part of an unbeliever. While presenting a Christian worldview based on scientific evidence, it is certainly important to stick with the facts and let the creation reflect the handiwork of the Creator.
Bibliography
Aaron, D. Understanding Theology in 15 Minutes a Day. Minneapolis, MN: Bethany House Publishers, 2012.
Dawkins, Richard. The Blind Watchmaker: Why the Evidence of Evolution Reveals a Universe Without Design. New York: W. W. Norton & Company, 1996.
Elwell, W. A. and Beitzel, B. J. Baker Encyclopedia of the Bible (Vol. 1). Grand Rapids, MI: Baker Book House, 1988. Logos Bible Software.
Faulkner, Danny R. "The Second Law of Thermodynamics and the Curse." Answers Research Journal Vol 6. 2013.
Geisler, Norman and Turek, Frank. I Don't Have Enough Faith to be an Atheist. Wheaton, IL: Crossway, 2004.
Ham, Ken. Six Days: The Age of the Earth and the Decline of the Church. Green Forest AR: Master Books, 2013.
Ham, Ken and Hodges, Bodie. How Do We Know the Bible is True? Green Forest, AR: Master Books, 2011.
Hutchison, Gary S. "An Apologetical Defense of the Doctrine of Creation." Masters Thesis., Dallas Theological Seminary, 1984. Accessed October 20, 2017. https://www-tren-com.proxy1.athensams.net/e-docs/download2.cfm.
Hutchison, John C. "The Design Argument In Scientific Discourse: Historical-Theological Perspective From The Seventeenth Century." Journal of the Evangelical Theological Society Vol 41. 1998.
Lamont, Ann. "Michael Faraday—God's Power and Electric Power," AnswersInGenesis.org, September 1, 1990, accessed December 6, 2017, https://answersingenesis.org/creation-scientists/profiles/michael-faraday-gods-power-and-electric-power/.
McFarland, Alex. The God You Thought You Knew. South Bloomington, MN: Bethany House Publishers, 2015.
Mitchell, Tommy. "The Second Law of Thermodynamics Began at the Fall," AnswersInGenesis.org, November 2, 2010. Accessed November 18, 2017, https://answersingenesis.org/creationism/arguments-to-avoid/the-second-law-of-thermodynamics-began-at-the-fall/.
Morris, Henry M. The Battle for Creation. San Diego, CA: Creation-Life Publishers, 1976.
---------. Many Infallible Proofs. El Cajon CA: Master Books, 1974.
---------. The Scientific Case for Creationism. San Diego, CA: Creation-Life Publishers, 1977.
---------. Studies in The Bible and Science. Grand Rapids MI: Baker Book House, 1966.
Robbins, John W. "The Hoax of Scientific Creationism," The Trinity Review, August 1987. Accessed November 30, 2017. http://www.trinityfoundation.org/journal.php?id=26.
Ryrie, Charles. C. Basic Theology: A Popular Systematic Guide to Understanding Biblical Truth. Chicago, IL: Moody Press, 1999. Logos Bible Software.
Stambaugh, James. Coming to Grips with Genesis: Biblical Authority and the Age of the Earth. Green Forest, AR; Master Books, 2008.
Turek, Frank. Stealing From God: Why Atheists Need God to Make Their Case. Colorado Springs, CO: NavPress, 2014.
Vett, Julie and Malone, Bruce. Inspired Evidence. Midland, MI: Search for the Truth Publications, 2011.
Wise, Kurt P. Faith, Form, and Time: What the Bible Teaches and Science Confirms about Creation and the Age of the Universe. Nashville, TN: B & H Publishing Group, 2002.
---